Product Designer | Concepteur de produit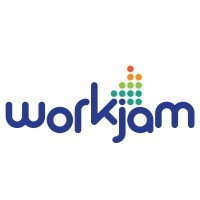 WorkJam
Product, Design
Montreal, QC, Canada
Posted on Wednesday, May 24, 2023
WorkJam's mission? To provide the best Digital Workplace for frontline and hourly workers. Through our industry-leading Digital Frontline Workplace platform, we are positively impacting the lives of millions of frontline employees worldwide, enabling them to achieve breakthrough productivity levels at companies of all sizes. We're proud of our dedicated teams who are driven to make a difference in the world. Join our team today and bring your innovative ideas, passion, and commitment to excellence to make an impact on our products and the new markets we create!
WorkJam is a high growth global organisation with operations in North America, Europe, and Australia with our head office based in Montreal. Learn more about WorkJam at WorkJam.com!
Your role as a Product Designer
We're looking for a Product Designer to join our growing Design team. You'll work with a large existing product that evolves rapidly to meet the demands of our customers. Your challenge will be to balance the needs of both our business clients and their employees on the frontline.
You'll join WorkJam's core design team and embed with other project-based teams. In the core team, you'll pair with other product and content designers for ideations, and take part in group activities like design reviews and retros. In project teams, you'll work closely with product owners and developers to build out specific features. You'll implement designs in a multi-platform ecosystem, which will require a willingness to embrace platform differences.
What you'll be doing:
Create low-fidelity wireframes and flows for early ideation.
Create high-fidelity UI mocks, flows, and prototypes.
Provide design specifications for dev handoff.
Help in user research and user testing.
Utilize and contribute to our design system.
Ship updates to existing features.
Help progress our product's design maturity.
What we're looking for:
3+ years of experience designing for digital products.
An aptitude for both the UX and UI sides of the design process.
Experience in multi-platform design (desktop and responsive web, native Android, native iOS).
Experience with Figma software or an equivalent.
Experience working with a design system is a big plus.
Ability to translate high-level requirements into useable, intuitive, and accessible designs.
Ability to provide clear, constructive feedback to team members' design solutions.
Ability to articulate design decisions to various stakeholders.
Ability to collaborate across functional teams and departments.
A team-oriented mindset, with a strong focus on culture, collaboration, and inclusiveness.
Excellent written and verbal communication skills.
What we offer:
Competitive salary and benefits package
4 weeks' vacation
Contribution to your retirement/pension plan
A flexible and remote/hybrid work environment
Work with the latest technology
A dynamic and inclusive culture
A supportive team that will encourage your professional growth and development
WorkJam
La mission de WorkJam? Fournir la meilleure plateforme numérique aux travailleur(se)s horaires et de première ligne. Grâce à notre plateforme numérique à la fine pointe de l'industrie, nous créons un impact positif dans la vie de millions d'employé(e)s de première ligne dans le monde, leur permettant d'atteindre des niveaux de productivité révolutionnaires dans des entreprises de toutes tailles. Nous sommes fiers de nos équipes dévouées qui sont déterminées à faire une différence dans le monde. Joignez notre équipe aujourd'hui et apportez vos idées innovantes, votre passion et votre engagement envers l'excellence pour influencer nos produits et les nouveaux marchés que nous créons!
WorkJam est une compagnie internationale en pleine croissance avec des opérations en Amérique du Nord, en Europe et en Australie et dont le siège social est à Montréal. Pour en savoir plus sur WorkJam, visitez WorkJam.com.
Votre rôle en tant que Concepteur de produits
Nous sommes à la recherche d'un concepteur de produits pour rejoindre notre équipe de conception en pleine expansion. Vous travaillerez sur un grand produit existant qui évolue rapidement pour répondre aux demandes de nos clients. Votre défi consistera à trouver un équilibre entre les besoins de nos clients commerciaux et ceux de leurs employés en première ligne.
Vous vous joindrez à l'équipe principale de conception de WorkJam, mais aussi à d'autres équipes de projet. Au sein de l'équipe principale, vous serez jumelé à d'autres concepteurs de produits et de contenu pour des idéations, et vous participerez à des activités de groupe comme des revues de conception et des rétroactions. Au sein des équipes de projet, vous travaillerez en étroite collaboration avec les propriétaires de produits et les développeurs pour mettre au point des fonctionnalités spécifiques. Vous mettrez en œuvre des conceptions dans un écosystème multiplateforme, ce qui nécessitera une volonté d'accepter les différences entre les plateformes.
Ce que vous ferez:
Créer des wireframes et des flux de basse fidélité pour une idéation précoce.
Créer des maquettes, des flux et des prototypes d'interface utilisateur haute fidélité.
Fournir des spécifications de conception pour le transfert du développement.
Participer à la recherche et aux tests utilisateurs.
Utiliser et contribuer à notre système de conception.
Envoyer des mises à jour des fonctionnalités existantes.
Contribuer à faire progresser la maturité de la conception de notre produit.
Ce que nous recherchons:
3+ ans d'expérience dans la conception de produits numériques.
Une aptitude pour les aspects UX et UI du processus de conception.
Expérience en conception multiplateforme (desktop et web responsive, Android natif, iOS natif).
Expérience avec le logiciel Figma ou un équivalent.
Une expérience de travail avec un système de conception est un atout majeur.
Capacité à traduire des exigences de haut niveau en conceptions utilisables, intuitives et accessibles.
Capacité à fournir des commentaires clairs et constructifs sur les solutions de conception des membres de l'équipe.
Capacité à expliquer les décisions de conception aux différentes parties prenantes.
Capacité à collaborer avec des équipes et des services fonctionnels.
Un esprit d'équipe, avec un fort accent sur la culture, la collaboration et l'inclusion.
Excellentes aptitudes à la communication écrite et verbale.
Ce que nous offrons:
Salaire et avantages sociaux compétitifs
4 semaines de vacances
Contribution à votre régime de retraite/pension
Un environnement de travail flexible et à distance/hybride
Travaillez avec les technologies les plus récentes
Une culture dynamique et inclusive
Une équipe solidaire qui encouragera votre croissance et votre développement professionnel